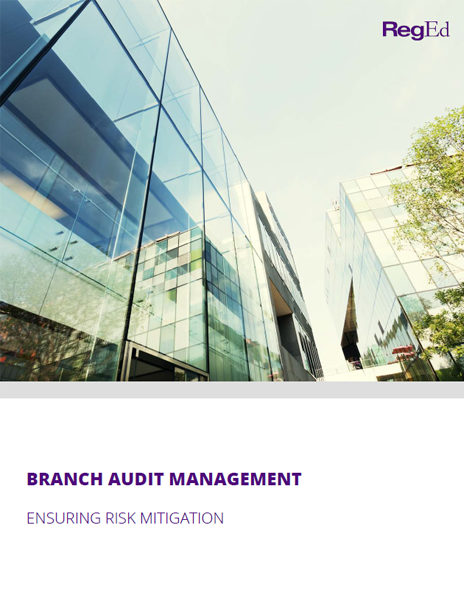 Regulators, such as FINRA, the Office of the Comptroller of the Currency (OCC), and the Consumer Financial Protection Bureau (CFPB), expect banks and other financial services firms to manage existing risks at every level—and to be equally prepared to detect and control new and emerging risks. Poor fraud detection and unethical sales practices in the branch network create high-risk situations and rigorous assessments of branch compliance with policies, procedures and controls are essential so that oversight stakeholders can identify the branches that warrant attention and remedial activities.
RegEd's industry-leading Audit Management solution enables banks to fully plan, schedule, conduct, resolve and report on branch and internal audits. The solution standardizes intake, remediation and reporting conventions to drive consistency and ensure that the audit program is being executed within company and regulatory guidelines.
Download this executive brief to learn more.
About RegEd
RegEd is the market-leading provider of enterprise compliance solutions with relationships with more than 200 financial services firms, including the nation's largest banks.
Established in 2000 by former regulators, the company is recognized for continuous regulatory technology innovation with solutions hallmarked by workflow-directed processes, data integration, regulatory intelligence, automated validations, business process automation and compliance dashboards. The aggregate drives the highest levels of operational efficiency and enables our clients to cost-effectively comply with regulations and continuously mitigate risk.
Trusted by the nation's top financial services firms, RegEd's proven, holistic approach to RegTech meets firms where they are on the compliance and risk management continuum, scaling as their needs evolve and amplifying the value proposition delivered to clients.