RegEd focused on collaborating with clients during 2022 to introduce significant improvements to the suite of solutions supporting the Enterprise Compliance Management Platform.
Firm's that have already adopted a product into their business that would like to learn more about a particular feature can reach out to their Client Success Management Team.
Firm's that want to learn more about a particular product and how it can solve marketplace problems can select the link under each product to learn more.
The following are some highlights of what was introduced this year:
Advertising Review
The Metadata Management Self-Service Tool allows permissioned users to add or edit submission and internal review questions and other requested data points on the submission form and internal review screens. Capabilities include creation of new fields, editing of existing fields, re-ordering fields via drag and drop, inactivation of existing fields, filtering field lists by process and format, and the ability to configure field-specific settings.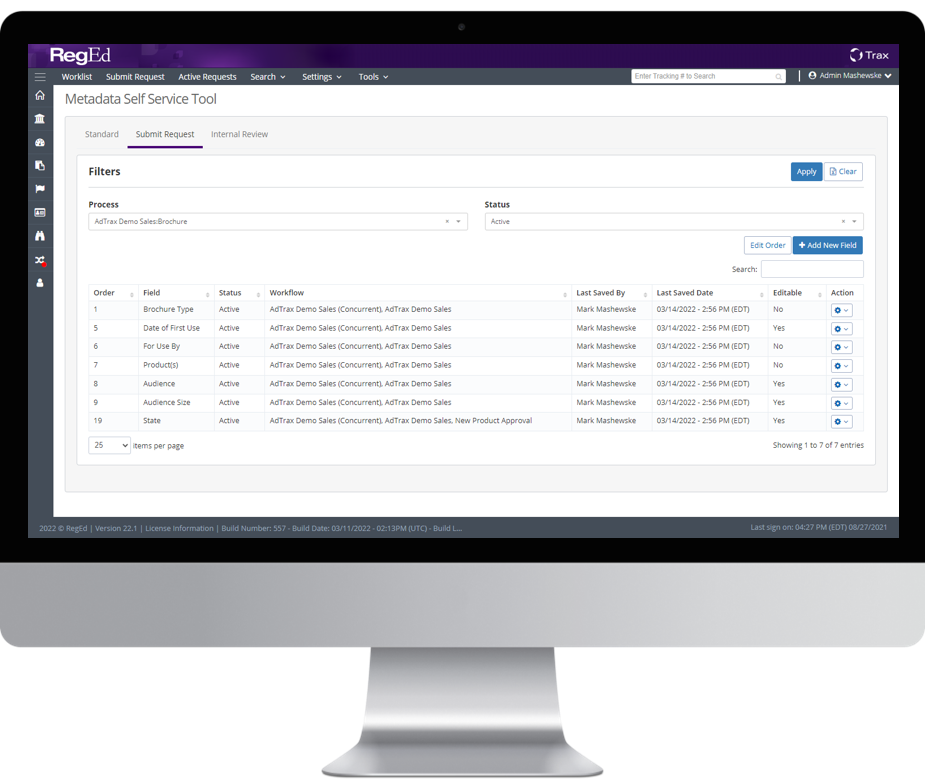 The SMART Disclosures℠ | Disclosure Management feature enhances the Advertising Review Library to enable management of Disclosure information, which can help ensure the consistent application of the most current versions of disclosure text across the organization. Disclosure items include standard and customer-defined metadata fields, label tagging, 'start use' dates and 'review by' dates, individual disclosure owner information, hierarchy group assignments, disclosure searches according to a users' span of permission, and more.
Content Library enhancements allow items to be assigned to a group via their hierarchy. This allows permission control over users' ability to access items in the library. For example, pre-approved content could be made accessible only to those users who meet certain registration or other requirements as set by the firm.
Advertising Reviews' Web Service Library continues to expand with two new calls: Modify Submissions and Modify Drafts. These new services enable licensed Advertising Review API clients to expand the functionality with their third-party integrations by updating submissions and drafts, including attachments.
Learn more about Advertising Review.
Audit Management
Additional Auditors: Per client request, this new feature allows firms to manage individual, group, or branch exams by one or more auditors/examiners.
Risk Rating: Would you like to assess risk based on results from branch exams? By leveraging client-defined categories, our new risk assessment tool allows firms to assign risk levels at the conclusion of each exam enabling you to identify risk at-a-glance for future compliance and audit planning efficiency.
Risk Scoring: Automate the identification, estimation, and prioritization of risk. This feature takes scoring to the next level by allowing firms to apply a calculation method to produce a risk score that will aid in evaluating risk during the examination process. Clients can choose from our pre-defined models or customize their own.
Audit Task Collaboration: This feature helps keep everyone in the loop, even when they are not in the same office or location. Firms can assign a single task or remediation item to multiple users so that everyone can see and communicate about ongoing work. This transparency means everyone has up-to-date information and can work productively and efficiently leading to quicker responses and faster resolution.
Learn more about Audit Management.
Gifts, Gratuities, and Contributions (GGC)
Contact Directory Privacy: Contact grouping allows firms to restrict which contacts a user can access, allowing for privacy settings within the GGC Contact Directory. For example, firms can limit reps' views to their own contacts or restrict access at a branch or OSJ level if they so desire.
Minimum Submission Limit: Firms can set a minimum submission limit so that they can control the submission amounts as defined by firm policy allowing them to capture items as low as zero dollars.
Expense Management API: Expense Management Services provides the capability to integrate external expense management systems into Gifts, Gratuities and Contributions. The all-new API will eliminate the need for duplicate entry of post-disclosure items by seamlessly creating submissions based on expenses.
Bulk Contact Import: Submissions with a high number of contacts can be daunting to enter one by one. Our contact import tool allows submitters to integrate with their current CRM to put together a list of contacts together to save time and increase accuracy.
Learn more about Gifts, Gratuities and Contributions Management.
Personal Securities Account (PSA)
Admin User Interface Uplift: Improvements to the user interface provides administrators a concise view of outside accounts with new search features, segregation of accounts and export options.
Learn more about Personal Securities Account Management.
Outside Business Activities (OBA)
Admin User Interface Uplift: Enhancements to the OBA filing queue user Interface provide worklist segregation to quickly locate items to file/amend as well as highlight the changes to information for each OBA.
Learn more about Outside Business Activities Management.
Education Suite
Investment Advisor Representative (IAR) CE: With the initial release in January 2022, RegEd continues to build upon the industry's largest and most comprehensive IAR CE solution to meet the NASAA model rule. The IAR CE catalog now includes 26 (1 or 2 Credit Hour Each) courses that focus on meeting the 12-hour annual requirement in both categories (Ethics and Professional Responsibility AND Products and Practices).
Firms are able to suppress the "Products and Practices" category of their IAR CE dashboard by opting-in for FINRA payment of 6 Hours to allow Regulatory Element to satisfy their IAR CE Products and Practices requirement. The IAR CE Dashboard now allows IARs to view historical completions broken down by year or comprehensively for all completions as desired. Program status now supports IAR CE to ensure reports and notifications are seamlessly integrated.
RegEdXpress: In addition, our all-new retail self-service platform RegEdXpress includes the ability to purchase additional users or add services to their current program. Clients may also view all purchase history and download PDF versions of receipts.
SCORM Support: RegEd's education suite now supports SCORM 1.2 and SCORM 2004 v3 for Firm Element as well as client-created courses.
Auto-assigning Product Codes: ITP clients can select product codes to be automatically assigned to their entire population. Producers will immediately have access to those courses without needing to enter the product codes themselves.
ITP Data Availability: Firms have access to more data. If a producer has completed a course that is no longer assigned to them, admins can see that completion at the bottom of the producer's profile. This ensures firms have access to all current and past data for the producers selling their products.
Learn more about our Education Products.
Questionnaires
Self-Service Tool: The Questionnaire Self-Service Tool is now available for general use. Firms can use this tool to make edits to existing questionnaires or modules as well as clone existing questionnaires to make modifications for the next applicable period. We would like to thank all of our clients that participated in the beta program and provided us with valuable feedback that will allow us to continue improving upon this valuable tool.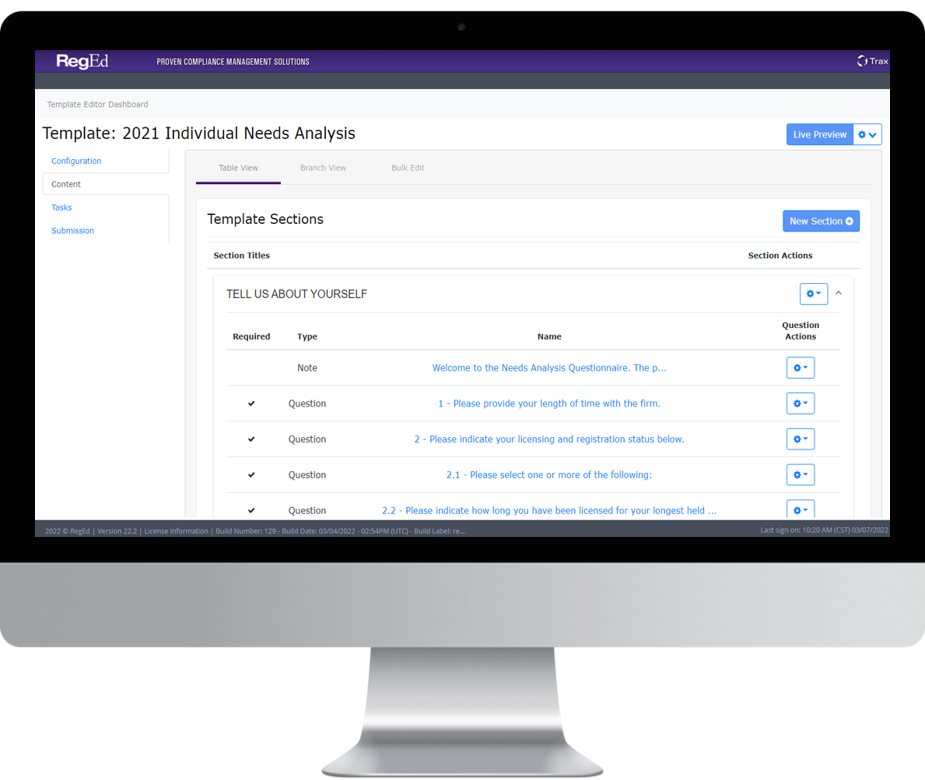 Learn more about Questionnaire Management.
CODE
Automatically Schedule Ad Hoc Reports: Firms can now set it and forget it. By leveraging the powerful and flexible ad hoc reporting tool, reports can now be created and scheduled to notify listed users on a recurring schedule.
Self-Service Tool: By popular demand, CODE introduced its first Self-Service tool by unlocking the ability for firms to manage the values within their drop-down lists.
Object Linking: CODE has further deepened the ability to tie data together by expanding the number of objects (Regulations, Events, Complaints, and so on) that can be tied together, further expanding the ability to create associations amongst related events.
Learn more about Policies and Procedures Management.