| |   By Adam Schaub, VP of Platform Product Management, RegEd |
| --- | --- |
Whether a firm is preparing for a branch audit or collecting information for the examination, pre-audit questionnaires simplify the process. Auditors get the information they need, when and how they need it, without burdening a firm's compliance team.
Benefits of pre-audit questionnaires include:
Broader participation and greater audit response rates due to flexibility
Accurate and timely data
Less time on site for auditors
Risk-based approach to on-site audits based on pre-audit responses
More time for compliance functions outside of audits
What are PAQs?
RegEd's Pre-Audit Questionnaires (PAQs) are a distinctive kind of template tied to an audit and are assigned as part of a scheduled audit session. Firms use PAQs to collect information before an exam.
Prior to the Pre-Audit Questionnaire (PAQ) module for Audit Management, firms configured and assigned templates with the Compliance Questionnaire solution. Responses to these questionnaires were mapped into specific audit templates to pre-fill or update questions in the exam. Today, auditors and supervisors can easily assign PAQs without leaving the Audit Management interface. Pertinent data collected with a PAQ is stored in the record of the exam, and can still be used to pre-fill an exam. This automation saves time for compliance teams and reduces the risks associated with manual data transfer.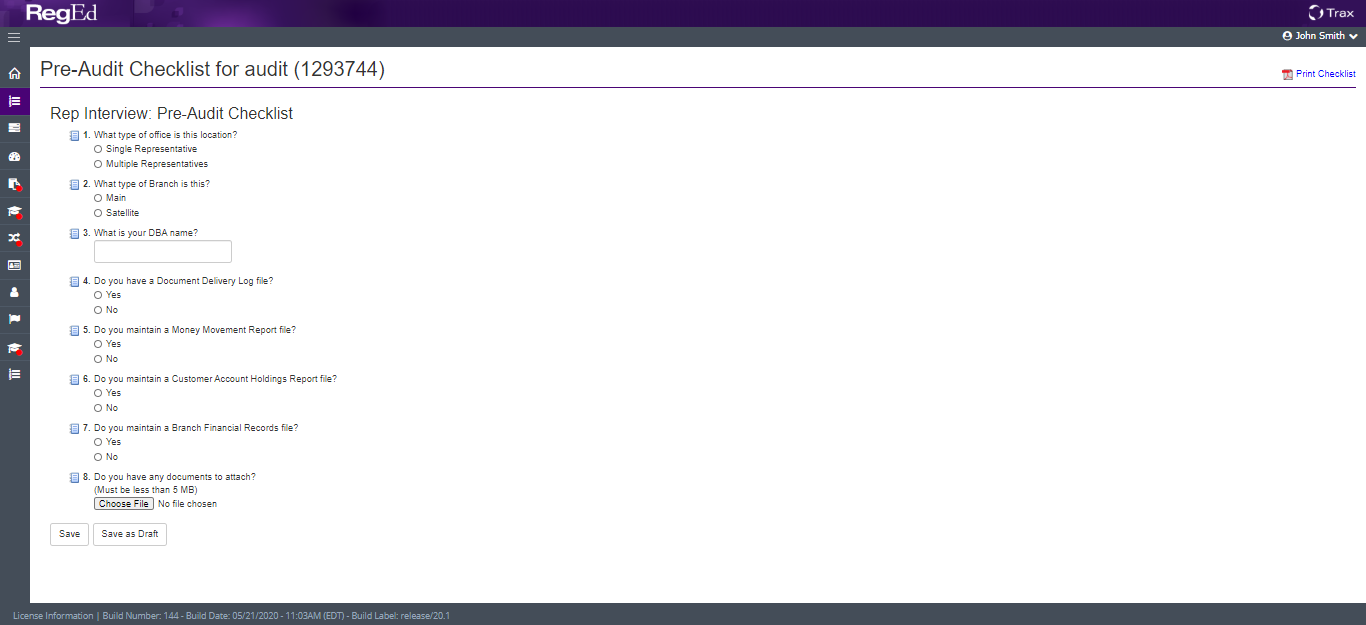 How are PAQs associated with an audit?
PAQs are assigned when an audit is scheduled or at any time before the exam begins by editing the audit within the RegEd system. Whether an audit is announced or unannounced, users decide when to create and assign PAQs to reps and managers. Auditors and supervisors can then view the status of each assigned PAQ at any time.
How are tasks configured in PAQs?
Tasks can be configured for a PAQ just like any audit (or other questionnaire) template. Many firms rely on the tasks created from exam findings in the audit template, but each question in a PAQ can also generate a task. One common use for PAQ tasks is a confirmation request for the auditor or a rep's supervisor. If the PAQ has associated tasks, they will be found in the Audit section of the Task Manager Dashboard or in "My Tasks" for rep users.

Use Cases
The flexibility and range of use of the new PAQ template are clear in the client use cases below:
One firm has removed an iterative section from their audit template and moved it to a PAQ assigned to each rep in a branch. Previously, the auditor created a section to capture data about each rep at the branch during the exam. With this change, they have reduced the time each auditor spends on an exam by capturing and recording data before coming on-site. Furthermore, the firm captures more rep data because the PAQ can be completed by reps at any time or place before the exam — vacation, remote work, and scheduling issues no longer impact response rates.
Another firm uses PAQs to conduct parts of a branch inspection ahead of the on-site visit. Between the PAQ and branch exam, all of the necessary elements of the branch inspection module are collected, analyzed, and reported in a single application. The information collected ahead of time helps auditors focus on the content and schedule of their exams. In turn, branches and auditors alike spend less time on each exam, saving time and money across the entire organization. Similarly, many enterprise clients benefit from delivering a PAQ ahead of unannounced audits. This way, vital exam information is collected in advance and unannounced audits can be performed as often as required to maintain compliance with evolving regulations.
In 2020 and 2021, RegEd helped firms review their branch exams with remote work and remote exams in mind. The PAQ is a perfect tool for compliance teams that want to cover the basics for a large volume of branch exams. With auditors free to focus their on-site visits on higher-risk individuals and branches, the firm can prioritize travel based on federal and local health and safety guidelines
Conclusion
While staying within the Audit Management solution, firms use PAQs to deliver iterative sections of an audit module to intended recipients ahead of an audit. This saves time by allowing auditors to capture data without having to schedule a time to meet with those who respond before the day of the audit. Additionally, any representatives that have scheduled unavailability (out-of-office, travel plans, etc.) or are remote have more time to provide the responses necessary to complete the audit. The PAQ offered by RegEd is a powerful tool that enhances productivity and increases efficiency for all compliance teams.
If you are a RegEd client that would like to learn more about streamlining audit coordination and data input with Pre-Audit Questionnaires, please reach out to your Customer Success Manager.
If you're not currently utilizing RegEd's Audit Management solution, please contact sales@reged.com to learn more!
About RegEd
RegEd is the market-leading provider of RegTech enterprise solutions with relationships with more than 200 enterprise clients, including 80% of the top 25 financial services firms.
Established in 2000 by former regulators, the company is recognized for continuous regulatory technology innovation with solutions hallmarked by workflow-directed processes, data integration, regulatory intelligence, automated validations, business process automation, and compliance dashboards. The aggregate drives the highest levels of operational efficiency and enables our clients to cost-effectively comply with regulations and continuously mitigate risk.
Trusted by the nation's top financial services firms, RegEd's proven, holistic approach to RegTech meets firms where they are on the compliance and risk management continuum, scaling as their needs evolve and amplifying the value proposition delivered to clients. For more information, please schedule a consultation.