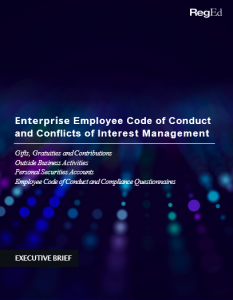 A number of well-publicized scandals in recent years have brought code of conduct issues to the forefront of investor consciousness and regulator focus. These risks are likely to be exacerbated as the fallout from the COVID-19 pandemic continues.
For organizations to protect their reputation and serve the best interest of their customers, they must effectively monitor, mitigate and prevent employee behaviors and sales practices that fail to serve the best interest of investors, including conflicts of interest and code of conduct violations.
More firms are turning to fit-for-purpose technology to streamline request processes, compliance monitoring and exception management associated with the firm's conflict of interest policies.
Download this executive brief to learn more.
About RegEd
RegEd is the market-leading provider of RegTech enterprise solutions with relationships with more than 200 enterprise clients, including 80% of the top 25 financial services firms.
Established in 2000 by former regulators, the company is recognized for continuous regulatory technology innovation with solutions hallmarked by workflow-directed processes, data integration, regulatory intelligence, automated validations, business process automation and compliance dashboards. The aggregate drives the highest levels of operational efficiency and enables our clients to cost-effectively comply with regulations and continuously mitigate risk.
Trusted by the nation's top financial services firms, RegEd's proven, holistic approach to RegTech meets firms where they are on the compliance and risk management continuum, scaling as their needs evolve and amplifying the value proposition delivered to clients.