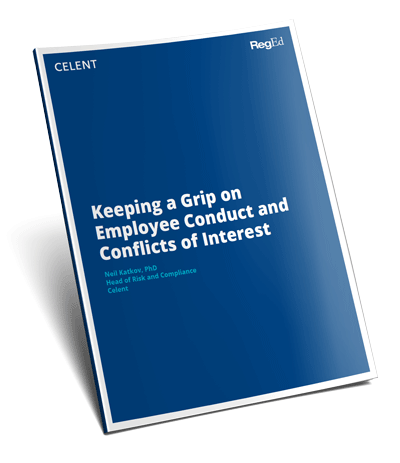 RegEd is pleased to provide you with a copy of "Keeping a Grip on Employee Conduct and Conflicts of Interest," a report from research and consulting company Celent.
Among the greatest challenges faced by banks, broker-dealers and other financial services firms is the ability to readily identify potential risk among the firm's employee and registered population, before it causes reputational harm.
This report, authored by Neil Katkov, PhD, Head of Risk and Compliance at Celent, provides an overview of the current landscape, as well as the best practices, processes and technology that leading firms employ to optimize compliance and reduce risk.
Download this report to learn more.
About RegEd
RegEd is the market-leading provider of RegTech enterprise solutions with relationships with more than 200 enterprise clients, including 80% of the top 25 financial services firms.
Established in 2000 by former regulators, the company is recognized for continuous regulatory technology innovation with solutions hallmarked by workflow-directed processes, data integration, regulatory intelligence, automated validations, business process automation and compliance dashboards. The aggregate drives the highest levels of operational efficiency and enables our clients to cost-effectively comply with regulations and continuously mitigate risk.
Trusted by the nation's top financial services firms, RegEd's proven, holistic approach to RegTech meets firms where they are on the compliance and risk management continuum, scaling as their needs evolve and amplifying the value proposition delivered to clients.