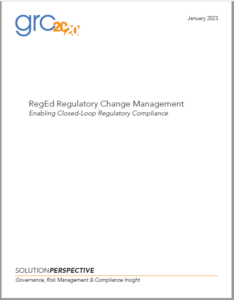 In this Analyst Report, leading research firm GRC 20/20 researched, evaluated, and reviewed RegEd's Regulatory Change Management solution. GRC 20/20 interviewed several clients that are using it in complex, distributed, and dynamic business environments, and found that the solution has helped organizations be efficient, effective, and agile in managing regulatory change, exams, policy management, and incidents.
About the Author

Michael Rasmussen is an internationally recognized pundit on governance, risk management, and compliance (GRC) – with specific expertise on the topics of enterprise GRC, GRC technology, corporate compliance, and policy management.  With 30+ years of experience, Michael helps organizations improve GRC processes, design and implement GRC architecture, and select technologies that are effective, efficient, and agile.  He is a sought-after keynote speaker, author, and advisor and is noted as the "Father of GRC" — being the first to define and model the GRC market in February 2002 while at Forrester.
About GRC 20/20
GRC 20/20 Research, LLC (GRC 20/20) provides clarity of insight into governance, risk management, and compliance (GRC) solutions and strategies through objective market research, benchmarking, training, and analysis. We provide independent and objective insight into leading GRC practices and processes, including market dynamics and intelligence; risk, regulatory and technology trends; competitive landscapes; market sizing; expenditure priorities; and mergers and acquisitions.
About RegEd
RegEd is the market-leading provider of RegTech enterprise solutions with relationships with more than 200 enterprise clients, including 80% of the top 25 financial services firms.
Established in 2000 by former regulators, the company is recognized for continuous regulatory technology innovation with solutions hallmarked by workflow-directed processes, data integration, regulatory intelligence, automated validations, business process automation and compliance dashboards. The aggregate drives the highest levels of operational efficiency and enables our clients to cost-effectively comply with regulations and continuously mitigate risk.
Trusted by the nation's top financial services firms, RegEd's proven, holistic approach to RegTech meets firms where they are on the compliance and risk management continuum, scaling as their needs evolve and amplifying the value proposition delivered to clients.