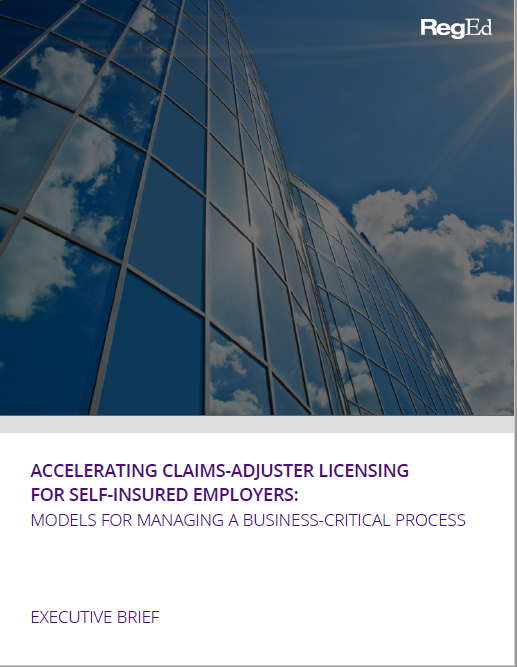 Claim handling delays are the most common consumer complaint that state insurance regulators receive. But many self-insured employers struggle to adjust claims promptly because they do not have the technology or knowledge to ensure that adjusters are properly licensed.
Like carriers, whose traditional method of handling adjuster licensing has been to insource the process with a team of specialists – enabled to varying extent by technology, either homegrown or from a commercial provider – self-insured employers are increasingly looking outside the organization and engaging managed services providers to manage part or all of the adjuster-licensing function. However they do it, self-insured employers need adequate resources in place to accelerate claims processing and reduce compliance risk.
In this Executive Brief, we evaluate the options facing self-insured employers as they look to manage the adjuster-licensing process effectively through either built-for-purpose enterprise technology or adjuster licensing managed services.
Download this report to learn more.
About RegEd
RegEd is the market-leading provider of RegTech enterprise solutions with relationships with more than 200 enterprise clients, including 80% of the top 25 financial services firms.
Established in 2000 by former regulators, the company is recognized for continuous regulatory technology innovation with solutions hallmarked by workflow-directed processes, data integration, regulatory intelligence, automated validations, business process automation and compliance dashboards. The aggregate drives the highest levels of operational efficiency and enables our clients to cost-effectively comply with regulations and continuously mitigate risk.
Trusted by the nation's top financial services firms, RegEd's proven, holistic approach to RegTech meets firms where they are on the compliance and risk management continuum, scaling as their needs evolve and amplifying the value proposition delivered to clients.