Distribution Onboarding in the Digital Era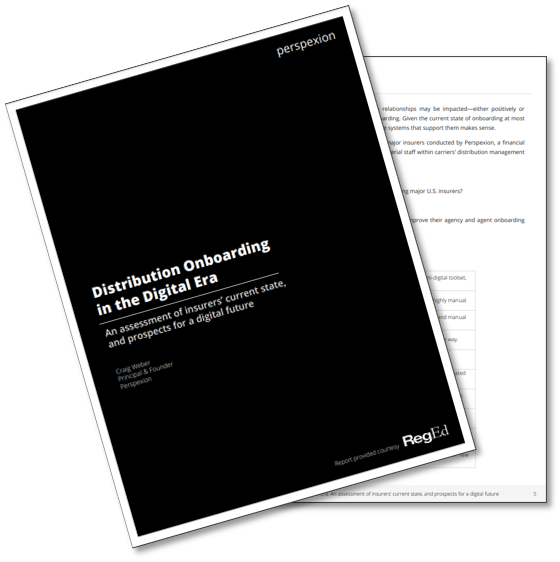 Managing agent and agency onboarding is a business critical function for insurers. But as carriers and agencies look to grow, they face increasing complexity. Increasing M&A, territorial expansion, and changing regulations make it difficult for insurers to react quickly and meet the needs of a rapidly scaling agent and agency population.
RegEd is pleased to share the following report based on a survey and interviews of executive and managerial staff within carriers' distribution management and operations areas. The report is authored by Craig Weber, Principal & Founder of Perspexion, and provides an overview of the current state of agency and agent onboarding among major U.S. insurers, the business impact of current tools and strategies, and the essential considerations for carriers that seek to improve their agency and agent onboarding performance.
Download this White Paper to learn more.
About RegEd
RegEd is the market-leading provider of RegTech enterprise solutions with relationships with more than 200 enterprise clients, including 80% of the top 25 financial services firms.
Established in 2000 by former regulators, the company is recognized for continuous regulatory technology innovation with solutions hallmarked by workflow-directed processes, data integration, regulatory intelligence, automated validations, business process automation and compliance dashboards. The aggregate drives the highest levels of operational efficiency and enables our clients to cost-effectively comply with regulations and continuously mitigate risk.
Trusted by the nation's top financial services firms, RegEd's proven, holistic approach to RegTech meets firms where they are on the compliance and risk management continuum, scaling as their needs evolve and amplifying the value proposition delivered to clients.