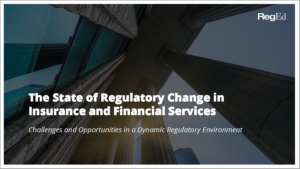 Managing regulatory changes is a critical challenge for insurance companies as they sift through thousands of changes per year to identify those that impact their business. Companies must then determine how to respond, ensure that they have effectively implemented required changes, and ultimately demonstrate compliance.
Though keeping up with regulations has always been difficult due to the lack of uniformity in rules among states, managing changes has become even more challenging in recent years. In surveying compliance leaders at large insurance companies, RegEd found that respondents worry about the strain their teams must bear because of the accelerating pace and increasing complexity of regulation.
Download this report to learn more.
About RegEd
RegEd is the market-leading provider of RegTech enterprise solutions with relationships with more than 200 enterprise clients, including 80% of the top 25 financial services firms.
Established in 2000 by former regulators, the company is recognized for continuous regulatory technology innovation with solutions hallmarked by workflow-directed processes, data integration, regulatory intelligence, automated validations, business process automation and compliance dashboards. The aggregate drives the highest levels of operational efficiency and enables our clients to cost-effectively comply with regulations and continuously mitigate risk.
Trusted by the nation's top financial services firms, RegEd's proven, holistic approach to RegTech meets firms where they are on the compliance and risk management continuum, scaling as their needs evolve and amplifying the value proposition delivered to clients.