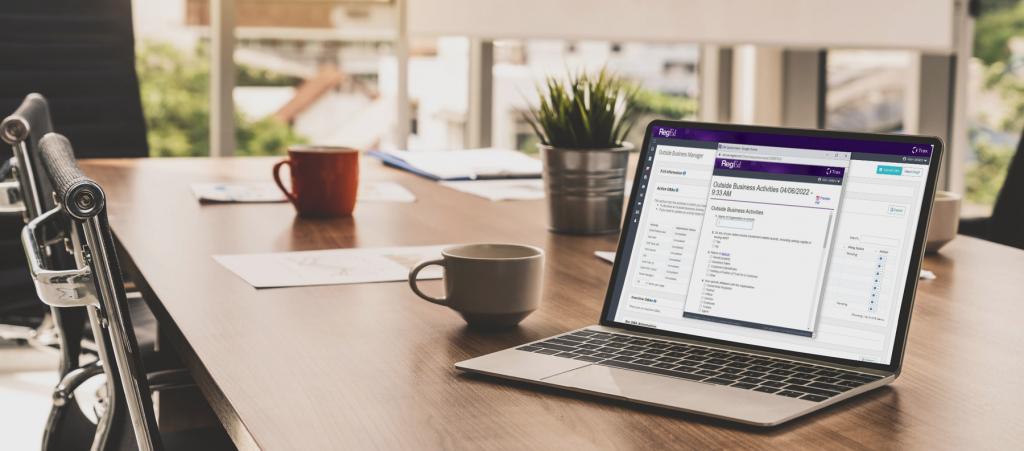 RegEd recently rolled out dozens of exciting new features with our spring Enterprise Compliance platform release designed for financial services firms. Learn more about the top 5 features below!
Industry's Largest IAR CE Offering
SCORM Compliant Courses
GGC's Contact Directory Enhancements
Multiple Auditor Support
Compliance Questionnaire & Advertising Review Self-Service Tools
Industry's Largest IAR CE Offering
In January, RegEd launched our Investment Adviser Representative CE solution to meet the North American Securities Administrators Association (NASAA)'s Investment Adviser Representative Continuing Education Model Rule. With over 25 courses initially launched, and new ones in the pipeline, we look forward to meeting, and exceeding, the needs of our users!
SCORM Compliant Courses
SCORM (Shareable Content Object Reference Model) is the industry standard for e-Learning interoperability and governs how online learning content and Learning Management Systems (LMSs) communicate. This provides our Education and Training clients with more efficient course creation, better reporting, and speedier timeframes to update CE content.
Gifts, Gratuities and Contributions Contact Directory Enhancements
By popular demand, we're excited to announce an all-new feature that allows firms to use permission-based contact directories so that end-users only see their contacts in our Gifts, Gratuities, and Contributions Management solution. To learn more or see it in action, reach out to your customer success manager or our sales team today at sales@reged.com!
Multiple Auditor Support
Have an exam program requiring more than one examiner? Fear not – RegEd's enterprise audit management solution now offers full multiple auditor support from scheduling, executing, and reporting on your program for individual, group, or location audits.
Questionnaires & Advertising Review Self-Service Tools
Early-access partners can use our new self-service tools for Compliance Questionnaires and Advertising Review. Update questions, answers, re-order sections, and easily preview the form(s) prior to deploying the updates – all within an easy-to-use interface. This capability is currently in the early access phase; be on the lookout for general availability later in 2022.
Want to learn more? Schedule a demo today!
About RegEd
RegEd is the market-leading provider of RegTech enterprise solutions with relationships with more than 200 enterprise clients, including 80% of the top 25 financial services firms.
Established in 2000 by former regulators, the company is recognized for continuous regulatory technology innovation with solutions hallmarked by workflow-directed processes, data integration, regulatory intelligence, automated validations, business process automation and compliance dashboards. The aggregate drives the highest levels of operational efficiency and enables our clients to cost-effectively comply with regulations and continuously mitigate risk.
Trusted by the nation's top financial services firms, RegEd's proven, holistic approach to RegTech meets firms where they are on the compliance and risk management continuum, scaling as their needs evolve and amplifying the value proposition delivered to clients. For more information, please visit www.reged.com.